Waka Adventure
Wakatere's adventure program is designed for youths aged 12-17 with the aims of having fun, making friends, and learning a variety of skills. Sailors are given the opportunity to learn to sail, explore different types of sailing such as windsurfing and be introduced to powerboat driving.
The adventure program focuses on the social aspect of being a member of a boating club, whether in a dinghy, kayak, or hanging out on the beach. Sailors are not required to own their own boat; most sailing will be done in club-owned RS Fevas.
Upcoming Courses (12-17yrs)
ADVENTURE TERM 1 2023
Term 1 2023 course is for sailors to build on their sailing skills. They will learn about safety and geography of the bay for destination sails, and how to communicate better with their skipper/crew. It's very social and fun.
Choose one option
WEDNESDAY 4-7pm (8 Feb - 29 Mar)

SUNDAY 9-12pm (12 Feb - 2 Apr)
One fixed fee $330, attend as many sessions as you can.
Boats provided, YNZ qualified coaches
Sailors must be 12 yrs-17yrs, have completed a LTS course and be a Wakatere club member.
+++ the Sunday course is now FULLY BOOKED. Choose Wednesday instead!
YOUTH LEARN TO SAIL
The next Waka Compass Youth Learn to Sail course is expected to be held in Spring 2023.
Boats provided

YNZ qualified coaches

YNZ Level 1 certified course
Please continue to register your interest as demand will help build courses.
Refer to the Youth LTS Notes below for FAQ
What courses are in the Waka Compass Adventure Programme?

Youth Learn to Sail
An introduction to sailing for beginners run during school holidays. Sailed in double-handed RS Feva's provided by the club, sailors will learn the basics of how to set up and control their boat while working as a team. A LTS Invitational membership is offered for this course.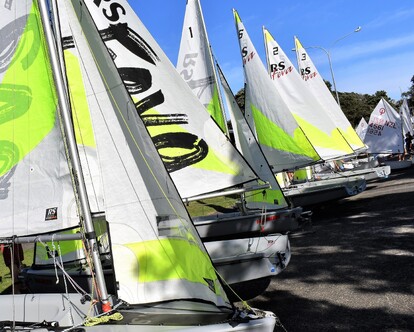 Adventure 1
Held on Sunday mornings or Wednesday after school. After learning the basics, sailors build their knowledge to include how to use a spinnaker, safety and geography of the bay for destination sails, and how to communicate better with their skipper/crew. Full membership is required.
Youth Learn to Sail Notes
Who should sign up for the LTS course?
To sail in Youth LTS, sailors must:
-be able to swim 50 metres unaided wearing a PFD (personal floating device) and sailing gear
What do I need for this course?
-Wetsuit
-Lifejacket (the club has some available to borrow)
-Polyprop top/rash vest top or similar (thermals)
-Togs
-Light wind jacket or spray top (goes over the top to keep the wind out)
-Beach shoes or old sneakers (please make sure they do not have a slippery bottom)
-Warm beanie
-Sun cap
-Sunscreen
-Towel, change of clothes for after sailing including a jumper
-Water bottle
-Snacks or use the cafe next door

Do I need to be a member?
Yes membership is required. However a Learn to Sail Invitational Membership is already part of the total course fee.
If you want to continue sailing after your course has finished you can upgrade. The LTS Membership ($100) will be reallocated to a full membership if upgrading in the same season. Easy!
Parent help
Whilst we have all the instructors and student help we need on the water, we welcome parent help each day to bring the equipment up from the beach, hosing down and putting away. Thank you!
If now isn't the right time, leave your details with us and we'll let you know when the next Learn to Sail course is open for bookings.