Waka Compass Confidence
Waka Confidence (8-11yr olds)

Waka Confidence is Wakatere's beginner junior sailing programme. Sailed in Optimist dinghies, kids are given the opportunity to learn the fundamentals of sailing while in a safe and social environment. Sailors are paired up initially, but as they progress, they become more independent and confident. This programme is designed to balance learning with fun & games while introducing kids and families to Wakatere and what we are all about.
Junior Learn to Sail: A 5 session introduction to sailing for beginners run during school holidays or term time. Sailed in Optimists provided by the club, sailors will learn the basics of how the wind works, parts of the boat, and how to set up and control their boat while working as a team.
Confidence 1: Confidence 1 builds on skills learned in LTS, and teaches sailors more techniques and knowledge. Held on Sunday mornings throughout the season, sailors and families are introduced to life at the club.
Confidence 2: Sailors learn how to get their boats going a bit faster, and are able to go sailing in more conditions. C2 is held on Sunday afternoons throughout the season.
Confidence Accelerate: These courses cover the same fun and skills as C1/C2, but are held as 5 days holiday courses, similar to LTS.
Upcoming courses
Summer School Holiday Courses 2020/21
Boats provided. YNZ qualified coaches.
December Course (19-22 Dec 2020)
January Course 1 (4-8th Jan 2021)
January Course 2 (11-15th Jan 2021)
January Course 3 (18-22 Jan 2021)
January Course 4 (25-29 Jan 2021)
Time: December course 9am-1pm for 4 consecutive days
Time: January courses 9am-12pm for 5 consecutive days
Cost: $400 non members, $300 members
To book: Members & non members must complete the LTS Application
Non members: Due to club requirements, a temporary invitational membership is included in the LTS package and will last for the duration of the course, as well as part of the season should a sailor continue to the next level. You can upgrade to a full membership after spending some time at the club, with $100 of the LTS payment reallocated if upgrading in the same season.

If you have any questions about the course, please get in touch with our Head Coach Lydia Grasberger - wakatere.coaching@gmail.com
What to bring
Buoyancy Vest (PFD) or club/lost property ones available
Wet-suit (short/long sleeve)
Polyprop clothing (thermals)
Togs/swimmers
Towel
Hat
Sunscreen
Water bottle
Afternoon snacks or use the cafe next door.
---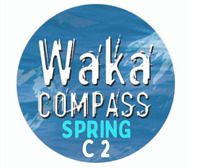 Confidence 1 Spring 2020
11th Oct - 13th Dec (9am-12pm)
Cost: $150 or $200 to use a club Opti
To book: Members must login and go to BOOKINGS
Confidence 2 Spring 2020
11th Oct - 13th Dec (1pm - 4pm)
Cost: $200
To book: Members must login and go to BOOKINGS
Maybe Next Time...
We will get in touch when the next course is happening if you add your name to our online 'register of interest' form -
good times - great adventures!!

Last updated 03:20 on 19 November 2020